Virginia H. Dale (editor)
Publisher: Springer Verlag of New York
Publication date: 2003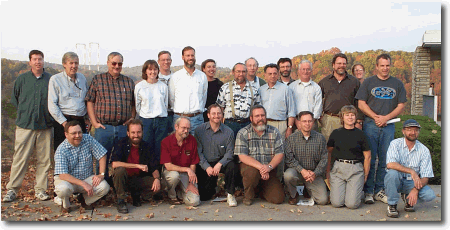 Participants at the workshop on "Effective Use of Ecological Modeling in Management"
held in Oak Ridge, TN in October 2002 at which this book was developed.
Overview
This book explores and suggests ways to expand the role of ecological modeling in resource management. Both aquatic and terrestrial ecological resources are considered. The introductory chapter sets forth the need for ecological models in resource management and briefly reviews the history of ecological models in resource management. Three chapters deal with examples of how models are effectively used in management issues. The next ten chapters address the issues of barriers, evolving approaches, data, toolkits, and needed investments. The book ends with chapters on environmental security and future directions.
The book should be of interest to a wide audience. The audience for the book will be a spectrum that runs between the pure scholar and the decision maker. The academic audience to be reached includes specialists in the fields of environmental sciences, social sciences, economics, landscape architecture, planning, and communication of risks. Members of the practitioner community who are likely to read and use the book include land planners, private and public land owners, sociologists who deal with goal and values, environmental engineers, applied ecologists, foresters, fisheries researchers and managers, risk analysts, and environmental lawyers.
Table of Contents
Acknowledgements
The development of the book was funded by contracts to Oak Ridge National Laboratory (ORNL) from the Strategic Environmental Research and Development Program (SERDP), the Army Research Office, the Engineering Research and Development Center of the Corps of Engineers, and the USDA Forest Service. Oak Ridge National Laboratory is managed by the University of Tennessee-Battelle LLC. for the U.S. Department of Energy under contract DE-AC05-00OR22725.